West Wide Energy Corridor Final PEIS: Large Scale Base Maps
Detailed base maps of proposed Section 368 energy corridors and supporting information, in Adobe Acrobat format.
Follow the links below to view or download detailed base maps of the proposed Section 368 energy corridors. These maps show federal land ownership, state and Tribal lands, major topographic features, cities and towns, and major roads and highways. Select maps by clicking on the hyperlinked ("hot") index map below. The full large scale base map set is also available for downloading as one 105 Mb Acrobat file.
The following documents are in PDF format, which requires the free Adobe Acrobat Reader. Note: Most users will already have Acrobat Reader software installed.
View/Download Full Large Scale Base Map Set
View/Download Individual Large Scale Base Maps
Each green-shaded grid cell in the index map below is linked to an individual large scale base map for the area covered by the grid cell. Click on a green-shaded cell below to view/download the associated large scale base maps.
Areas covered by non-shaded grid cells do not contain proposed Section 368 energy corridors, thus no large scale base map was prepared for these areas.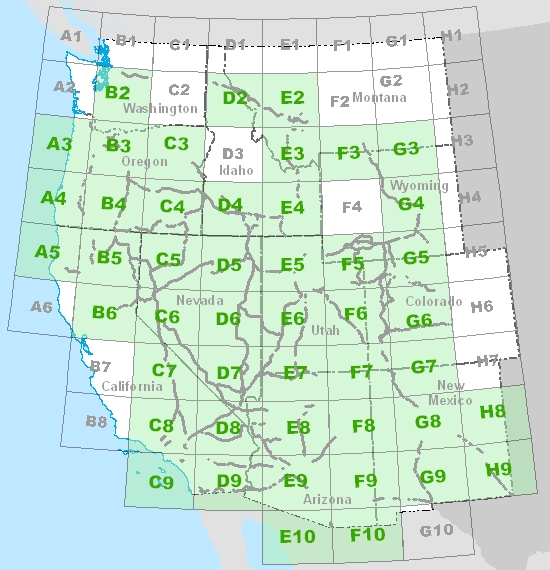 Need Help? Have Questions?
If you experience any problem downloading these files, need assistance, or have questions about the PEIS maps or mapping data, please contact the Webmaster at [email protected]